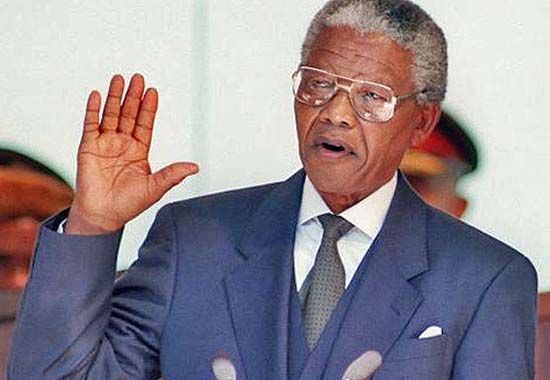 Nelson Mandela, Inaugural address, May 10, 1994

Tears of Joy
Commentary by Black Kos Editor Deoliver47
There have been a few times in my life that I have wept tears of joy over world events.
I remember February 11, 1990 quite well as one of those times – Nelson Mandela was free.

BBC reports Nelson Mandela released from prison
Only four years later, on May 10, 1994 he would stand at a podium and make an inaugural address as South Africa's first black President after the historic election of April 27 – now known as Freedom Day.

Mandela casts his ballot
I wept again as I watched the coverage of him taking the oath of office and during his inaugural address.
Little did I know, or even dream that on January 20, 2009 we would have a similar inauguration here in the US.

Mandela Inaugural address
Text:
Today, all of us do, by our presence here, and by our celebrations in other parts of our country and the world, confer glory and hope to newborn liberty.
Out of the experience of an extraordinary human disaster that lasted too long, must be born a society of which all humanity will be proud. Our daily deeds as ordinary South Africans must produce an actual South African reality that will reinforce humanity's belief in justice, strengthen its confidence in the nobility of the human soul and sustain all our hopes for a glorious life for all.

All this we owe both to ourselves and to the peoples of the world who are so well represented here today.

To my compatriots, I have no hesitation in saying that each one of us is as intimately attached to the soil of this beautiful country as are the famous jacaranda trees of Pretoria and the mimosa trees of the bushveld.

Each time one of us touches the soil of this land, we feel a sense of personal renewal. The national mood changes as the seasons change. We are moved by a sense of joy and exhilaration when the grass turns green and the flowers bloom.

That spiritual and physical oneness we all share with this common homeland explains the depth of the pain we all carried in our hearts as we saw our country tear itself apart in a terrible conflict, and as we saw it spurned, outlawed and isolated by the peoples of the world, precisely because it has become the universal base of the pernicious ideology and practice of racism and racial oppression.

We, the people of South Africa, feel fulfilled that humanity has taken us back into its bosom, that we, who were outlaws not so long ago, have today been given the rare privilege to be host to the nations of the world on our own soil.

We thank all our distinguished international guests for having come to take possession with the people of our country of what is, after all, a common victory for justice, for peace, for human dignity. We trust that you will continue to stand by us as we tackle the challenges of building peace, prosperity, non-sexism, non-racialism and democracy.
``````````````````````````
The time for the healing of the wounds has come. The moment to bridge the chasms that divide us has come. The time to build is upon us.

We have, at last, achieved our political emancipation. We pledge ourselves to liberate all our people from the continuing bondage of poverty, deprivation, suffering, gender and other discrimination. We succeeded to take our last steps to freedom in conditions of relative peace. We commit ourselves to the construction of a complete, just and lasting peace.

We have triumphed in the effort to implant hope in the breasts of the millions of our people. We enter into a covenant that we shall build the society in which all South Africans, both black and white, will be able to walk tall, without any fear in their hearts, assured of their inalienable right to human dignity - a rainbow nation at peace with itself and the world.
Recipient of the Nobel Peace Prize in 1993, Mandela and his comrades had fought for the right for freedom, which included picking up arms, founding Umkhonto we Sizwe, the military wing of the African National Congress in 1961.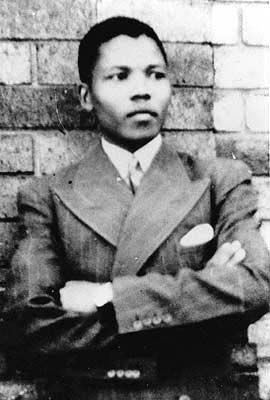 He was arrested, and on Nov 7 1962 was sentenced to 5 years in prison. A later trial with other members of the leadership of the ANC became known as The Rivonia Trial.
On June 11 1964, at the conclusion of the trial, Mandela and the seven other defendants - Walter Sisulu, Govan Mbeki (father of current South African President Thabo Mbeki), Raymond Mhlaba, Elias Motsoaledi, Ahmed Kathrada and Denis Goldberg - were convicted. Mandela was found guilty on four charges of sabotage. All eight were imprisoned to life imprisonment.

The United Nations Security Council condemned the trial and began moves towards international sanctions against the apartheid regime. But it was 27 years before Mandela was released from prison on February 11th 1990, becoming President of South Africa following the first democratic multi-racial elections in 1994.
Those tears shed by all of us who watched, marched, protested to "Free Mandela" and "Stop Apartheid" in South Africa are now a part of history, and that history continues in struggles around the world and here at home.
The problems facing South Africa - economic inequality, poverty, unemployment are still to be faced. The wealthy still rule, and the poor are marginalized. HIV/AIDS is still epidemic in South Africa.
Let us not forget – the struggle continues.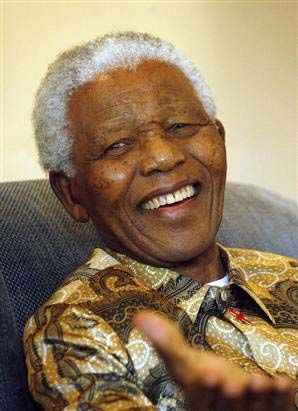 ------------------------------------------------------------------------------
For more information there are hundreds of resources available on the web – including documentary films and videos, and books. And this wouldn't be our Front Porch, without some music.
The Long Walk of Nelson Mandela: PBS
Madiba
Sondela
Amandla
N'Kosi Sikeleli (Miriam Makeba, Ladysmith Black Mambazo, Paul Simon)
Miriam Makeba: Khawuleza
Vusi Mahlasela at Mandela's 90th Birthday
Abdullah Ibrahim: Mannenberg
For the first time ever, Abdullah Ibrahim, formally known as Dollar Brand, went to Robin Island, where Mandela was imprisoned. All forms of music were banned. A lawyer smuggled one of Abdullah's songs into the control room, blocked the doors and played it over the loud speakers. Mandela's first sound of music in decades.

The Robben Island Singers Documentary: Trailer
http://robbenislandsingers.com/
Thandiswa Mazwai performs "Ibokwe" at Mandela Day 2009 from Radio City Music Hall
---------------------------------------------------------------------
--------------------------------------------------------------------
---------------------------------------------------------------------------------
News by dopper0189, Black Kos Managing Editor
--------------------------------------------------------------------------------



--------------------------------------------------------------------------------
Lawsuits accusing Wells Fargo of discriminatory lending have been allowed to move forward, a victory for plaintiffs that have accused the bank of steering Blacks toward predatory loans. New York Times: Judge Allows Redlining Suits to Proceed.
-------------------------------------------------------------------------------

Two lawsuits accusing Wells Fargo of discriminatory lending practices have been allowed to move forward, a victory for plaintiffs that have accused the bank of steering African-Americans toward predatory loans.
In one lawsuit, brought by the city of Memphis and Shelby County, Tenn., Judge S. Thomas Anderson of Federal District Court for the Western District of Tennessee on Wednesday denied a motion from Wells Fargo to dismiss, partly on the grounds that the suit was too broadly drawn. Both jurisdictions accused the lender of improperly steering African-Americans toward loan products that ultimately led to foreclosures, vacancies and increased government costs.
"The City of Memphis and Shelby County have not alleged that Wells Fargo lending practices resulted in a host of social and political ills plaguing entire sections of the community," Judge Anderson wrote in a 32-page order. "Rather plaintiffs contend that defendants have targeted individual property owners with specific lending practices (reverse redlining), resulting in specific effects (foreclosures and vacancies) at specific properties, which in turn created specific costs (services and tax revenue) for local government."
Judge Anderson's ruling came two weeks after Judge J. Frederick Motz, of Federal District Court in Maryland denied Wells Fargo's attempt to dismiss a similar lawsuit brought by the mayor and city council of Baltimore. Two previous versions of that lawsuit, claiming reverse redlining, in which the bank steered African-Americans toward more predatory loans, had been dismissed by the court.
But this time, Judge Motz said city officials had narrowed the allegations enough to show a plausible link between Well Fargo's actions and its impact on the city. The issue, he said, was whether "the city has plausibly alleged that the properties in question would not have become vacant but for the allegedly improper loans made by Wells Fargo."



Josh Anderson for The New York Times
Memphis claims that bank practices led to vacant homes like the one John Harper, 19, lives next to.


-------------------------------------------------------------------------------
The Louisiana Supreme Court is expected to hear a novel argument Monday in the long-standing debate over the legacy of the Confederate flag: Is it so prejudicial that its presence at the courthouse justifies overturning a murder conviction? Wall St. Journal: Murder Appeal Raises Confederate Flag Issue
------------------------------------------------------------------------------

The case involves an attempt to overturn a 2009 death sentence against a black defendant on grounds that flying the flag outside a state courthouse was prejudicial to his case.
Felton Dorsey, an African American was sentenced to death in Shreveport, La., for killing Joe Prock, a white firefighter, during a robbery of the home of Mr. Prock's mother.
Mr. Dorsey claims he is innocent and seeks to overturn the conviction on numerous grounds, including that prosecutors used unreliable accomplice testimony. But race is a central part of the appeal. Mr. Dorsey contends that prosecutors improperly removed most of the prospective black jurors from the case, resulting in a jury of 11 whites and one African American.
He claims to have suffered additional discrimination due to the Confederate flag that has flown outside the Caddo Parish courthouse in Shreveport since 1951.
"The quintessential symbol of white supremacy looms over the courthouse," he said in his appellate brief.
For some in the South, the Confederate flag is a reminder of slavery. For others, the flag serves as a neutral memorial to Civil War veterans, and it has been the subject of many political and legal challenges in the South over the years.
Critics say it demeans blacks, while defenders see it as an important historical symbol, and contend it deserves free-speech protection.

--------------------------------------------------------------------------------


--------------------------------------------------------------------------------
The Huntington Library, Art Collections, and Botanical Gardens has acquired its first major work by an African American artist and what it calls "a long-desired addition" to its paintings by the anti-academic group of American artists known as the Eight. LA Times: Huntington is adding two 20th century works to its American art holdings
---------------------------------------------------------------------------------
Sargent Claude Johnson's 1937 redwood screen for a pipe organ and Ernest Lawson's oil "Harlem Flats (Back Lot Laundry)," circa 1907, were purchased at the 17th Art Collectors' Council meeting last weekend.
"These are extremely important acquisitions that help us tell a more complete story about American art made in the first half of the 20th century," says Jessica Todd Smith, chief curator of American art.
Johnson was one of the first African American artists from the West Coast to develop a national reputation. He created the 22-foot-long screen for an organ at the California School for the Blind in Berkeley while working for the Federal Art Project, a part of the Depression-era Works Progress Administration. The school later relocated and the piece was eventually removed from the site, says Smith, who calls the purchase "an extraordinary opportunity to acquire a monumental WPA sculpture."
The untitled screen--which is carved, gilded, stained and painted--depicts what Smith describes as "a beautiful Garden of Eden-like setting with a tree of life as a focal point surrounded by people, animals and plants."
A painting by Lawson "has been on our wish list," says Smith, because the Huntington already displays works by many members of the Eight, whose portrayals of urban life helped to inspire the Ashcan School. "Harlem Flats" offers a glimpse of early 20th century New York that, she says,"clearly demonstrates Lawson's roots in the Ashcan School and the Eight. It's a lot more engaged in the working life of the city than many of his later, strictly Impressionist landscapes, but it's done with the beautiful, angled afternoon light and palette that is resonant of the Impressionists."



A 22-foot-long redwood screen for a pipe organ (1937) by Sargent Claude Johnson. Credits: The Huntington Library, Art Collections, and Botanical Gardens
--------------------------------------------------------------------------------


--------------------------------------------------------------------------------
Atlanta's Spelman College kicked off its first open dialogue on LGBT issues, reported Rod McCullom. The all-day event, titled "Facilitating Campus Climates of Pluralism, Inclusivity, and Progressive Change at HBCU's," is the first of its kind at a historically black college, and involves participants from other black colleges across the nation, including Howard, Clark Atlanta, Southern and several others. Colorlines: Spelman College Hosts Historic LGBT Summit
-------------------------------------------------------------------------------
Hortense Barber of BET wrote about why the significance of the moment for HBCU's. "Black colleges as a whole have been slower to take on this public dialogue on lesbian and gay issues for a few reasons," Barber wrote.
According to Dr. Beverly Guy-Sheftall, the founding director of the Women's Research and Resource Center at Spelman, the relative silence on the issues mirrors the black community's attitude as a whole. "Some [schools] were founded with religious affiliation," she added as rationale for the colleges' slow efforts toward inclusivity.
Back in 2009, Morehouse College officials caused a national controversy after instituting a dress code that banned students from wearing clothing "associated with women's garb (dresses, tunics, purses, pumps, etc.)." Last fall, Aliya S. King wrote a widely circulated piece for Vibe Magainze that look a deeper look into the college's queer community, which many claimed the university had driven underground and were trying to do away with completely.
Yet in light of last year's rash of LGBT suicides at schools and colleges across the country, many colleges have been forced to take a second look at how their institutional policies might be silencing queer students. Kyle Bella also wrote for Colorlines about how schools could better address anti-gay bullying.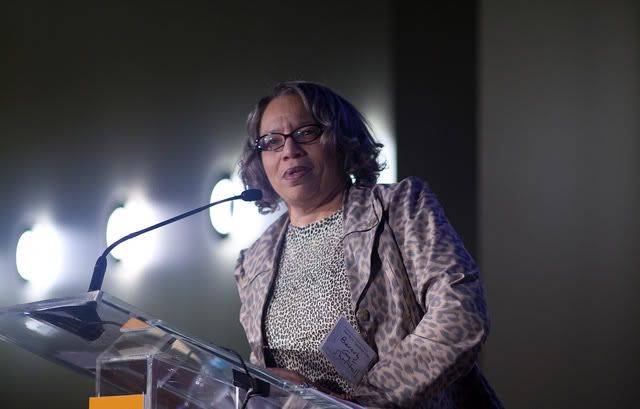 Beverly Guy-Sheftall, Creative Commons/feministwomenshealthcenter


-------------------------------------------------------------------------------
The disappearance of black jockeys from the Kentucky Derby and other races was no accident. A report from 1900 details a conspiracy to shut them out. The Root: Silks, Saddles and Discrimination
-------------------------------------------------------------------------------
With the Kentucky Derby going to post the first Saturday in May, it seems an appropriate time to consider why black jockeys, who once dominated the sport of horse racing, are no longer in the running. A researcher in Washington, D.C., has uncovered evidence, contained in a turn-of-the-century newspaper article, explaining how black riders were systematically "unionized" out of the sport.
Black jockeys won 15 of the first 28 of America's most important horse races at Churchill Downs. In fact, every rider on the track at the inaugural Kentucky Derby in 1875 was black, except one. That race was won by a former slave, Oliver Lewis.
And yet black jockeys mysteriously began to disappear near the turn of the century. Today they are practically nonexistent. There have been varying explanations for this vanishing act. The discovery of this historic document sheds new light on exactly what happened.
There was a time when riding a racehorse was almost exclusively a black occupation. It began with plantation owners using lightweight slave boys to race their horses against rival owners. Some slaves were tied to horses to keep them from falling off, resulting in injury and sometimes death.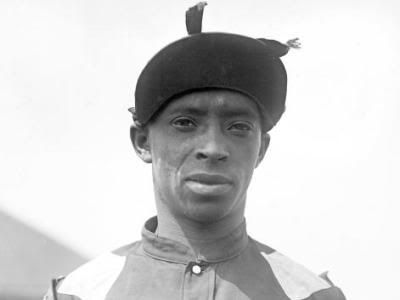 Jimmy Winkfield, circa 1903, at Hawthorne Race Track in Illinois (Chicago History Museum/Getty Images)


---------------------------------------------------------------------------
Voices and Soul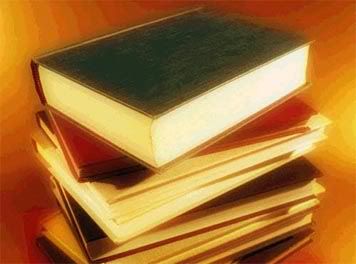 by Justice Putnam
Black Kos Poetry Editor
As a child in the Cascades, east of Eugene, I would look at the starry night sky and wonder at the immense complexity of space and time. I would wonder at the orbits of the planets and their moons, of our solar system in orbit within the Milky Way itself. I then wondered at what we were learning about the microscopic world; of the orbits of protons, electrons and neutrons around the nuclei of atoms; and the movements of atoms themselves. I wondered at molecules and I wondered at the cells that make our skin. I wondered at how all of it makes the objects we see. I wondered at the trees and the stones, I wondered at the mountains and their lakes, I wondered at the rivers and the seas; and how evaporation made the clouds. I wondered at the rain falling from the sky and the very air we breathe. I wondered at electricity and I wondered at the nuclear explosions at the test ranges in Nevada.
I would look at the starry night sky and realize each and every star was a sun, possibly and certainly with planets orbiting them; like protons, electrons and neutrons around the nuclei of atoms. I then wondered at the interaction we have with our world and with each other. I wondered at war and I wondered at love.
Everything seemed to based on a circle; or at least an ellipse.
I then wondered at the round coins in my pocket; and I then wondered at...
How Things Work

Today it's going to cost us twenty dollars
To live. Five for a softball. Four for a book,
A handful of ones for coffee and two sweet rolls,
Bus fare, rosin for your mother's violin.
We're completing our task. The tip I left
For the waitress filters down
Like rain, wetting the new roots of a child
Perhaps, a belligerent cat that won't let go
Of a balled sock until there's chicken to eat.
As far as I can tell, daughter, it works like this:
You buy bread from a grocery, a bag of apples
From a fruit stand, and what coins
Are passed on helps others buy pencils, glue,
Tickets to a movie in which laughter
Is thrown into their faces.
If we buy a goldfish, someone tries on a hat.
If we buy crayons, someone walks home with a broom.
A tip, a small purchase here and there,
And things just keep going. I guess.
-------------------------------------------------------------------------
The Front Porch is now open. Grab a chair, a rocker, a seat on the glider, or a hammock.
If you are new - welcome.